Contact Information
Mailing Address: P.O. Box 160, Raquette Lake, NY 13436
Emergency Calls: 911
NON Emergency: (315) 354-4644
The Raquette Lake Volunteer Fire Department serves the Raquette Lake area on land, water, ice and snow with a fire engine and tanker, a fireboat, an ambulance and an emergency snowmobile with a patient carrier or fire sled. Mutual aid response to other area fire departments is a priority.
Raquette Lake Ambulance Squad is a part of the all-volunteer Raquette Lake Fire Department. Its 76-mile ambulance transport to Utica is the longest in the state.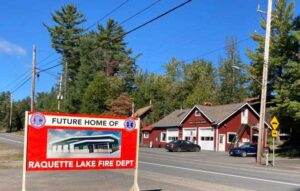 The Ladies Auxiliary has always been a huge support for the RLVFD. They purchased the first portable defibrillator and assist with cleaning the inside of the ambulance, restocking, doing laundry and organization. Their financial aid to both the ambulance and the fire department is invaluable.
The fire department and ambulance squad participate in Mutual Aid and 911 Dispatch by Herkimer County. The department would not be able to do the job without mutual aid from crews along the hospital route.